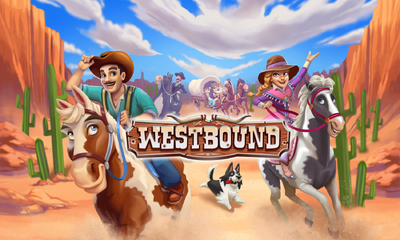 "Pioneers! O Pioneers!" Are you ready for the Western Frontier?
Your wagon has broken down on its quest to the west! Now you're stranded in an uncharted canyon with a motley crew of settlers.
Pioneer, it's time to build a civilization in this uncharted frontier and turn it into your own thriving boomtown! Saddle up your horse and come along!
Note: You must be at least 13 years of age to play or download this game. For more information, please refer to [the Rockyou Inc.] Terms of Service and Privacy Policy.
(Source: Google Play description)
Game Description
Edit
Westbound combines an interesting story line with an opportunity to build and grow a thriving community.
Main characters are your helpers. You can assign them to grow crops, build houses and town buildings, and more. Numerous Quest Series guide and reward your progress. Team Challenges occur weekly Friday through Sunday allowing competitive play on a variety of challenges. 
Although the game itself is free, you can make in-game purchases, usually pickaxes, gold, and energy, to improve gameplay. You can also do free offers to get these resources. See Tapjoy for free offer information.
Join the Adventure
Edit
Download from:
Make a Westbound Wiki Username
Edit
Go to the User Login Page. Please either check the "Remember Me" box or log in every time you edit or post (or want to hide a few Wiki ads). You can use the same username and password for all Wikia sites.
Advantages for You
Edit
Signing in hides your IP address and thus your location
You see few ads while logged in
The Wiki will email you (unless you uncheck the preference) when someone writes on your wall, answers your forum posts, or changes a page you "follow"
You can add yourself to the neighbors page or have yourself added
You have the option to upload a picture to use as a forum avatar or even personalize your profile page
Advantages for Us
Edit
We see  your username, not your IP address

We feel like we're dealing with a person, not a number
We remember usernames much better than IP's

For many (if you have a dynamic IP or log in from someplace different), we only know you if you are logged in
If you use the same Internet as someone else who visits, we won't be able to tell you apart unless at least one of you logs in (for example, someone else in your household)
Learn to Play in the Wild West
Edit
Strategy - page with strategy tips
Neighbors - information on neighbors and list of neighbors you can add
Questions about the game? Post in the Rockyou Forum for peer support or email Raeyin at:

---