See also: Houses, Premium Houses, Limited Edition Series Buildings
These houses are available for up to 14 days during and shortly after a Limited Edition Series. However, they may disappear if you skip them during that Series. Occasionally, the houses return for short periods, usually during a sale.
They cost gold and give more tonic than most houses. They do not give as much extra experience, and the earlier ones actually gave poor experience.
Haunted House
Edit
Quest Series: All Hallows' Eve (Oct 29, 2013)
Level: 6
Price: 50 Gold
Tonic harvested: 105
Experience harvested: 35
Time between harvests: 2 hrs
Time to build: 5 sec
Tonic per hour: 52.50
Experience per hour: 17.50
Playful Pavillion
Edit
Quest Series: Winks and High Jinks! (Nov 5, 2013)
Level: 6
Price: 75 Gold
Tonic harvested: 160
Experience harvested: 35
Time between harvests: 2 hrs
Time to build: 5 sec
Tonic per hour: 80.00
Experience per hour: 17.50
Redwood House
Edit
Quest Series: Free the Tree (Nov 12, 2013)
Level: 6
Price: 100 Gold
Tonic harvested: 210
Experience harvested: 35
Time between harvests: 2 hrs
Time to build: 5 sec
Tonic per hour: 105.00
Experience per hour: 17.50
Mining House
Edit
Quest Series: Landmark Lark (Nov 19, 2013)
Level: 6
Price: 50 Gold
Tonic harvested: 170
Experience harvested: 55
Time between harvests: 4 hrs
Time to build: 5 sec
Tonic per hour: 42.50
Experience per hour: 13.75
Feasting House
Edit
Quest Series: Quirky Turkey (Nov 26, 2013)
Level: 6
Price: 50 Gold
Tonic harvested: 170
Experience harvested: 55
Time between harvests: 4 hrs
Time to build: 5 sec
Tonic per hour: 42.50
Experience per hour: 13.75
Tree House
Edit
Quest Series: Mayan Mayhem (Dec 3, 2013)
Level: 6
Price: 75 Gold
Tonic harvested: 250
Experience harvested: 55
Time between harvests: 4 hrs
Time to build: 5 sec
Tonic per hour: 62.50
Experience per hour: 13.75
Winter Cabin
Edit
Quest Series: Right On, Swan (Dec 12, 2013)
Level: 6
Price: 50 Gold
Tonic harvested: 230
Experience harvested: 75
Time between harvests: 6 hrs
Time to build: 5 sec
Tonic per hour: 38.33
Experience per hour: 12.50
Snow House
Edit
Quest Series: Castle Hassle (Dec 17, 2013)
Level: 6
Price: 75 Gold
Tonic harvested: 160
Experience harvested: 35
Time between harvests: 2 hrs
Time to build: 5 sec
Tonic per hour: 80.00
Experience per hour: 17.50
Santa's House
Edit
Quest Series: Because Santa Clause (Dec 24, 2013)
Level: 6
Price: 100 Gold
Tonic harvested: 460
Experience harvested: 75
Time between harvests: 6 hrs
Time to build: 5 sec
Tonic per hour: 76.67
Experience per hour: 12.50
Newyear Pad
Edit
Quest Series: Calendar Challenger (Dec 31, 2013)
Level: 6
Price: 50 Gold
Tonic harvested: 270
Experience harvested: 90
Time between harvests: 8 hrs
Time to build: 5 sec
Tonic per hour: 33.75
Experience per hour: 11.25
Upside Down
Edit
Quest Series: Cut a Rug (Jan 7, 2014)
Level: 6
Price: 75 Gold
Tonic harvested: 410
Experience harvested: 90
Time between harvests: 8 hrs
Time to build: 5 sec
Tonic per hour: 51.25
Experience per hour: 11.25
Boomtown Apartments
Edit
Quest Series: Mandatory Observatory (Jan 14, 2014)
Level: 6
Price: 75 Gold
Tonic harvested: 410
Experience harvested: 90
Time between harvests: 8 hrs
Time to build: 5 sec
Tonic per hour: 51.25
Experience per hour: 11.25
Desert Domicile
Edit
Quest Series: The Show Goes On (Jan 20, 2014)
Level: 6
Price: 50 Gold
Tonic harvested: 330
Experience harvested: 110
Time between harvests: 10 hrs
Time to build: 5 sec
Tonic per hour: 33.00
Experience per hour: 11.00
Patriotic Pavilion
Edit
Quest Series: Tower of the Hour (Jan 28, 2014)
Level: 6
Price: 75 Gold
Tonic harvested: 500
Experience harvested: 110
Time between harvests: 10 hrs
Time to build: 5 sec
Tonic per hour: 50.00
Experience per hour: 11.00
Bamboo Shack
Edit
Quest Series: Brave the Cave (Feb 5, 2014)
Level: 6
Price: 100 Gold
Tonic harvested: 670
Experience harvested: 110
Time between harvests: 10 hrs
Time to build: 5 sec
Tonic per hour: 67.00
Experience per hour: 11.00
Heart House
Edit
Quest Series: A Kind of Love (Feb 11, 2014)
Level: 6
Price: 100 Gold
Tonic harvested: 670
Experience harvested: 110
Time between harvests: 10 hrs
Time to build: 5 sec
Tonic per hour: 67.00
Experience per hour: 11.00
Miner Pigsty
Edit
Quest Series: Take Heart in Heart (Feb 18, 2014)
Level: 6
Price: 75 Gold
Tonic harvested: 560
Experience harvested: 125
Time between harvests: 12 hrs
Time to build: 5 sec
Tonic per hour: 46.67
Experience per hour: 10.42
Governor's Manse
Edit
Quest Series: Hunkydory Story (Feb 25, 2014)
Level: 6
Price: 100 Gold
Tonic harvested: 750
Experience harvested: 125
Time between harvests: 12 hrs
Time to build: 5 sec
Tonic per hour: 62.50
Experience per hour: 10.42
Goldtooth's Estate
Edit
Quest Series: Westbound and Down (March 4, 2014)
Level: 6
Price: 75 gold
Tonic harvested: 560
Experience harvested: 125
Time between harvests: 12 hrs
Time to build: 5 sec
Tonic per hour: 46.67
Experience per hour: 10.42
Top Hat House
Edit
Quest Series: Over the Rainbow (March 11, 2014)
Level: 6
Price: 75 Gold
Tonic harvested: 560
Experience harvested: 125
Time between harvests: 12 hrs
Time to build: 5 sec
Tonic per hour: 46.67
Experience per hour: 10.42
Colorful Igloo
Edit
Quest Series: Bird is the Word (Mar 18, 2014)
Level: 6
Price: 75 Gold
Tonic harvested: 560
Experience harvested: 125
Time between harvests: 12 hrs
Time to build: 5 sec
Tonic per hour: 46.67
Experience per hour: 10.42
Hunting Lodge
Edit
Quest Series: Storm Wranglin' (Mar 25, 2014)
Level: 6
Price: 50 Gold
Tonic harvested: 170
Experience harvested: 55
Time between harvests: 4 hrs
Time to build: 5 sec
Tonic per hour: 42.50
Experience per hour: 13.75
Large Pueblo
Edit
Quest Series: Volcanic Panic (Apr 1, 2014)
Level: 6
Price: 50 gold
Tonic harvested: 170
Experience harvested: 55
Time between harvests: 4 hrs
Time to build: 5 sec
Tonic per hour: 42.50
Experience per hour: 13.75
Grand Tipi
Edit
Quest Series: Thermal Spring Fling (Apr 8, 2014)
Level: 6
Price: 100 gold
Tonic harvested: 330
Experience harvested: 55
Time between harvests: 4 hrs
Time to build: 5 sec
Tonic per hour: 82.50
Experience per hour: 13.75
Sand Budapest Hotel
Edit
Quest Series: An Axe to Grind (Apr 15, 2014)
Level: 6
Price: 50 gold
Tonic harvested: 230
Experience harvested: 75
Time between harvests: 6 hrs
Time to build: 5 secs
Tonic per hour: 38.33
Experience per hour: 12.50
Paul Bunyan's Boot
Edit
Quest Series: Breakfast for Champions (Apr 22, 2014)
Level: 6
Price: 75 gold
Tonic harvested: 340
Experience harvested: 75
Time between harvests: 6 hrs
Time to build: 5 secs
Tonic per hour: 56.67
Experience per hour: 12.50
Babe's Vacation House
Edit
Quest Series: Blue Bovine Bash (Apr 29, 2014)
Level: 6
Price: 75 gold
Tonic harvested: 340
Experience harvested: 75
Time between harvests: 6 hrs
Time to build: 5 secs
Tonic per hour: 56.67
Experience per hour: 12.50
Green Apple House
Edit
Quest Series: Castle of Flowers (May 6, 2014)
Level: 6
Price: 50 gold
Tonic harvested: 270
Experience harvested: 90
Time between harvests: 8 hrs
Time to build: 5 secs
Tonic per hour: 33.75
Experience per hour: 11.25
Scary Pool House
Edit
Quest Series: Haunted and Unwanted (May 9, 2014)
Level: 6
Price: 75 gold
Tonic harvested: 410
Experience harvested: 90
Time between harvests: 8 hrs
Time to build: 5 secs
Tonic per hour: 51.25
Experience per hour: 11.25
Apple House
Edit
Quest Series: Heed the Appleseed (May 13, 2014)
Level: 6
Price: 100 gold
Tonic harvested: 540
Experience harvested: 90
Time between harvests: 8 hrs
Time to build: 5 secs
Tonic per hour: 67.50
Experience per hour: 11.25
Seaside Manor
Edit
Quest Series: Travail and Set Sail (May 20, 2014)
Level: 6
Price: 50 gold
Tonic harvested: 330
Experience harvested: 110
Time between harvests: 10 hrs
Time to build: 5 secs
Tonic per hour: 33.00
Experience per hour: 11.00
Redwood House (2)
Edit
Quest Series: Speak Friend and Enter (May 27, 2014)
Level: 6
Price: 75 gold
Tonic harvested: 500
Experience harvested: 110
Time between harvests: 10 hrs
Time to build: 5 secs
Tonic per hour: 50.00
Experience per hour: 11.00
Seashell House
Edit
Quest Series: Land Shark Amusement Park (Jun 4, 2014)
Level: 6
Price: 50 gold
Tonic harvested: 330
Experience harvested: 110
Time between harvests: 10 hrs
Time to build: 5 secs
Tonic per hour: 33.00
Experience per hour: 11.00
Future House
Edit
Quest Series: Summer Solstice Solace (Jun 5, 2014)
Level: 6
Price: 50 gold
Tonic harvested: 330
Experience harvested: 110
Time between harvests: 10 hrs
Time to build: 5 secs
Tonic per hour: 33.00
Experience per hour: 11.00
Arrow House
Edit
Quest Series: Mystery of the Lost Supplies (Jun 10, 2014)
Level: 6
Price: 75 gold
Tonic harvested: 560
Experience harvested: 125
Time between harvests: 12 hrs
Time to build: 5 secs
Tonic per hour: 46.67
Experience per hour: 10.42
Mustache House
Edit
Quest Series: Impede the Stampede (Jun 17, 2014)
Level: 6
Price: 100 gold
Tonic harvested: 750
Experience harvested: 125
Time between harvests: 12 hrs
Time to build: 5 secs
Tonic per hour: 62.50
Experience per hour: 10.42
Barrel House
Edit
Quest Series: Fertile Turtle (Jun 24, 2014)
Level: 6
Price: 50 gold
Tonic harvested: 105
Experience harvested: 35
Time between harvests: 2 hrs
Time to build: 5 secs
Tonic per hour: 52.50
Experience per hour: 17.50
Tower House
Edit
Quest Series: Now My Watch Begins (Jul 1, 2014)
Level: 6
Price: 75 gold
Tonic harvested: 160
Experience harvested: 35
Time between harvests: 2 hrs
Time to build: 5 secs
Tonic per hour: 80.00
Experience per hour: 17.50
Barrel House II
Edit
Quest Series: Garden Fun (Jul 8, 2014)
Level: 6
Price: 75 gold
Tonic harvested: 160
Experience harvested: 35
Time between harvests: 2 hrs
Time to build: 5 secs
Tonic per hour: 80.00
Experience per hour: 17.50
Neo Classical House
Edit
Quest Series: No Pane, No Gain (Jul 15, 2014)
Level: 6
Price: 75 gold
Tonic harvested: 160
Experience harvested: 35
Time between harvests: 2 hrs
Time to build: 5 secs
Tonic per hour: 80.00
Experience per hour: 17.50
Stockystone House
Edit

Quest Series: Eager Beaver (Jul 22, 2014)
Level: 6
Price: 100 gold
Tonic harvested: 330
Experience harvested: 55
Time between harvests: 4 hrs
Time to build: 5 secs
Tonic per hour: 82.50
Experience per hour: 13.75
Desert Condo
Edit
Quest Series: Ruby's Flower-to-be (Aug 1, 2014)
Level: 6
Price: 50 gold
Tonic harvested: 270
Experience harvested: 90
Time between harvests: 8 hrs
Time to build: 5 secs
Tonic per hour: 33.75
Experience per hour: 11.25
Flower Petal House
Edit
Quest Series: Camel Castle (Aug 5, 2014)
Level: 6
Price: 75 gold
Tonic harvested: 340
Experience harvested: 75
Time between harvests: 6 hrs
Time to build: 5 secs
Tonic per hour: 56.67
Experience per hour: 12.50
Picnic House
Edit
Quest Series: Play Away! (Aug 11, 2014)
Level: 6
Price: 75 gold
Tonic harvested: 340
Experience harvested: 75
Time between harvests: 6 hrs
Time to build: 5 secs
Tonic per hour: 56.67
Experience per hour: 12.50
Medieval House
Edit
Quest Series: The Chance For Romance (Aug 18, 2014)
Level: 6
Price: 100 gold
Tonic harvested: 670
Experience harvested: 110
Time between harvests: 10 hrs
Time to build: 5 secs
Tonic per hour: 67.00
Experience per hour: 11.00
Globe house
Edit
Quest Series: Play Away! (2) (Aug 25, 2014)
Level: 6
Price: 100 gold
Tonic harvested: 670
Experience harvested: 110
Time between harvests: 10 hrs
Time to build: 5 secs
Tonic per hour: 67.00
Experience per hour: 11.00
Carnival House
Edit
Quest Series: Merry Carousel (Sept 1, 2014)
Level: 6
Price: 100 gold
Tonic harvested: 670
Experience harvested: 110
Time between harvests: 10 hrs
Time to build: 5 secs
Tonic per hour: 67.00
Experience per hour: 11.00
Pyramid House
Edit
Quest Series: Mayan Legend (Sept 1, 2014)
Level: 6
Price: 100 gold
Tonic harvested: 670
Experience harvested: 110
Time between harvests: 10 hrs
Time to build: 5 secs
Tonic per hour: 67.00
Experience per hour: 11.00
Tyrolean House
Edit

Quest Series: Aquatic Project (Sept 8, 2014)
Level: 6
Price: 100 gold
Tonic harvested: 670
Experience harvested: 110
Time between harvests: 10 hrs
Time to build: 5 secs
Tonic per hour: 67.00
Experience per hour: 11.00
Princess Castle
Edit
Quest Series: Pony Polyphony (Sept 15, 2014)
Level: 6
Price: 100 gold
Tonic harvested: 670
Experience harvested: 110
Time between harvests: 10 hrs
Time to build: 5 secs
Tonic per hour: 67.00
Experience per hour: 11.00
Gazebo House
Edit
Quest Series: Peacock Talk (Sept 22, 2014)
Level: 6
Price: 100 gold
Tonic harvested: 670
Experience harvested: 110
Time between harvests: 10 hrs
Time to build: 5 secs
Tonic per hour: 67.00
Experience per hour: 11.00
Waterfall House
Edit
Quest Series: Gratified By A Slide (Sept 29, 2014)
Level: 6
Price: 100 gold
Tonic harvested: 670
Experience harvested: 110
Time between harvests: 10 hrs
Time to build: 5 secs
Tonic per hour: 67.00
Experience per hour: 11.00
Miller's Cottage
Edit
Quest Series:
Level: 6
Price: 100 gold
Tonic harvested: 670
Experience harvested: 110
Time between harvests: 10 hrs
Time to build: 5 secs
Tonic per hour: 67.00
Experience per hour: 11.00
Harvest House
Edit
Quest Series:
Level: 6
Price: 100 gold
Tonic harvested: 670
Experience harvested: 110
Time between harvests: 10 hrs
Time to build: 5 secs
Tonic per hour: 67.00
Experience per hour: 11.00
Autumn House
Edit
Quest Series: Halloween Queen (Oct 13, 2014)
Level: 6
Price: 100 gold
Tonic harvested: 670
Experience harvested: 110
Time between harvests: 10 hrs
Time to build: 5 secs
Tonic per hour: 67.00
Experience per hour: 11.00
Cobweb House
Edit

Quest Series: Haunted Jaunt (Oct 20, 2014)
Level: 6
Price: 100 gold
Tonic harvested: 670
Experience harvested: 110
Time between harvests: 10 hrs
Time to build: 5 secs
Tonic per hour: 67.00
Experience per hour: 11.00
Sand Castle House
Edit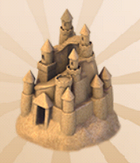 Also known as: Sand Castle
Quest Series: Sandbox Talk (Oct 27, 2014)
Level: 6
Price: 100 gold
Tonic harvested: 670
Experience harvested: 110
Time between harvests: 10 hrs
Time to build: 5 secs
Tonic per hour: 67.00
Experience per hour: 11.00
Acorn House
Edit
Quest Series: Heartwarming Hearth (Nov 3, 2014)
Level: 6
Price: 100 gold
Tonic harvested: 670
Experience harvested: 110
Time between harvests: 10 hrs
Time to build: 5 secs
Tonic per hour: 67.00
Experience per hour: 11.00
Icicle House
Edit
Quest Series: Bring On The Skating! (Nov 4, 2014)
Level: 6
Price: 100 gold
Tonic harvested: 670
Experience harvested: 110
Time between harvests: 10 hrs
Time to build: 5 secs
Tonic per hour: 67.00
Experience per hour: 11.00
Candy House
Edit
Quest Series: Holiday Hankerings (Nov 11, 2014)
Level: 6
Price: 100 gold
Tonic harvested: 670
Experience harvested: 110
Time between harvests: 10 hrs
Time to build: 5 secs
Tonic per hour: 67.00
Experience per hour: 11.00
Festive House
Edit
Quest Series: Swooning Tunes (Nov 17, 2014)
Level: 6
Price: 100 gold
Tonic harvested: 670
Experience harvested: 110
Time between harvests: 10 hrs
Time to build: 5 secs
Tonic per hour: 67.00
Experience per hour: 11.00
Forest Cottage
Edit
Quest Series: Feast and Furious (Nov 26, 2014)
Level: 3
Price: 100 gold
Tonic harvested: 670
Experience harvested: 110
Time between harvests: 10 hrs
Time to build: 5 secs
Tonic per hour: 67.00
Experience per hour: 11.00
Christmas Cabin House
Edit
Quest Series: Birdhouse Bonanza (Dec 2, 2014)
Level: 3
Price: 100 gold
Tonic harvested: 670
Experience harvested: 110
Time between harvests: 10 hrs
Time to build: 5 secs
Tonic per hour: 67.00
Experience per hour: 11.00
Pepper Mint House
Edit
Also known as: Peppermint House
Quest Series: Holiday Memory (Dec 5, 2014)
Level: 3
Price: 100 gold
Tonic harvested: 670
Experience harvested: 110
Time between harvests: 10 hrs
Time to build: 5 secs
Tonic per hour: 67.00
Experience per hour: 11.00
Luminous House
Edit

Quest Series: Pining For Pines (Dec 8, 2014)
Level: 5
Price: 100 gold
Tonic harvested: 670
Experience harvested: 110
Time between harvests: 10 hrs
Time to build: 5 secs
Tonic per hour: 67.00
Experience per hour: 11.00
Santa's Workshop House
Edit
Quest Series:
Level: 5
Price: 200 gold
Tonic harvested: 670
Experience harvested: 110
Time between harvests: 10 hrs
Time to build: 5 secs
Tonic per hour: 67.00
Experience per hour: 11.00
Solodorm House
Edit
Quest Series:
Level: 5
Price: 200 gold
Tonic harvested: 670
Experience harvested: 110
Time between harvests: 10 hrs
Time to build: 5 secs
Tonic per hour: 67.00
Experience per hour: 11.00
Christmas Castle
Edit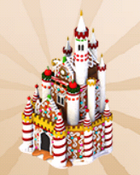 Quest Series: At First White (Dec 22, 2014)
Level: 5
Price: 100 gold
Tonic harvested: 670
Experience harvested: 110
Time between harvests: 10 hrs
Time to build: 5 secs
Tonic per hour: 67.00
Experience per hour: 11.00
Snowflake House
Edit
Quest Series: Catch Off Garden (Dec 29, 2014)
Level: 5
Price: 100 gold
Tonic harvested: 670
Experience harvested: 110
Time between harvests: 10 hrs
Time to build: 5 secs
Tonic per hour: 67.00
Experience per hour: 11.00
Nautical House
Edit

Quest Series: Maiden Voyage (Jan 5, 2015)
Level: 5
Price: 100 gold
Tonic harvested: 670
Experience harvested: 110
Time between harvests: 10 hrs
Time to build: 5 secs
Tonic per hour: 67.00
Experience per hour: 11.00
Swiss House
Edit

Quest Series: Matterhorn Madness (Jan 7, 2015)
Level: 5
Price: 100 gold
Tonic harvested: 670
Experience harvested: 110
Time between harvests: 10 hrs
Time to build: 5 secs
Tonic per hour: 67.00
Experience per hour: 11.00
Blizzard Cabin
Edit

Quest Series: Moose Fair Lady (Jan 12, 2015)
Level: 5
Price: 100 gold
Tonic harvested: 670
Experience harvested: 110
Time between harvests: 10 hrs
Time to build: 5 secs
Tonic per hour: 67.00
Experience per hour: 11.00
Hockey House
Edit
Quest Series: Rink Again (Jan 19, 2015)
Level: 5
Price: 100 gold
Tonic harvested: 670
Experience harvested: 110
Time between harvests: 10 hrs
Time to build: 5 secs
Tonic per hour: 67.00
Experience per hour: 11.00
Strauss House
Edit

Quest Series: Waltzing Westward (Jan, 2015)
Level: 5
Price: 100 gold
Tonic harvested: 670
Experience harvested: 110
Time between harvests: 10 hrs
Time to build: 5 secs
Tonic per hour: 67.00
Experience per hour: 11.00
Romantic House
Edit
Quest Series: The Fountain-Hearted
Level: 5
Price: 100 gold
Tonic harvested: 670
Experience harvested: 110
Time between harvests: 10 hrs
Time to build: 5 secs
Tonic per hour: 67.00
Experience per hour: 11.00
Pink House
Edit
Quest Series:
Level: 5
Price: 100 gold
Tonic harvested: 670
Experience harvested: 110
Time between harvests: 10 hrs
Time to build: 5 secs
Tonic per hour: 67.00
Experience per hour: 11.00
Rose Cottage
Edit
Quest Series:
Level: 5
Price: 100 gold
Tonic harvested: 670
Experience harvested: 110
Time between harvests: 10 hrs
Time to build: 5 secs
Tonic per hour: 67.00
Experience per hour: 11.00
Heart House
Edit
Quest Series:
Level: 5
Price: 200 gold
Tonic harvested: 670
Experience harvested: 110
Time between harvests: 10 hrs
Time to build: 5 secs
Tonic per hour: 67.00
Experience per hour: 11.00
Birdwatching House
Edit
Quest Series: Bird of Passage (Feb 19, 2015)
Level: 5
Price: 100 gold
Tonic harvested: 670
Experience harvested: 110
Time between harvests: 10 hrs
Time to build: 5 secs
Tonic per hour: 67.00
Experience per hour: 11.00
Cowboy House
Edit
Quest Series:
Level: 5
Price: 100 gold
Tonic harvested: 670
Experience harvested: 110
Time between harvests: 10 hrs
Time to build: 5 secs
Tonic per hour: 67.00
Experience per hour: 11.00
Tulip House
Edit
Quest Series:
Level: 5
Price: 100 gold
Tonic harvested: 670
Experience harvested: 110
Time between harvests: 10 hrs
Time to build: 5 secs
Tonic per hour: 67.00
Experience per hour: 11.00
Heart House
Edit
Quest Series:
Level: 5
Price: 200 gold
Tonic harvested: 670
Experience harvested: 110
Time between harvests: 10 hrs
Time to build: 5 secs
Tonic per hour: 67.00
Experience per hour: 11.00
Dutch House
Edit
Quest Series:
Level: 5
Price: 100 gold
Tonic harvested: 670
Experience harvested: 110
Time between harvests: 10 hrs
Time to build: 5 secs
Tonic per hour: 67.00
Experience per hour: 11.00
Leprechaun House
Edit
Quest Series:
Level: 5
Price: 100 gold
Tonic harvested: 670
Experience harvested: 110
Time between harvests: 10 hrs
Time to build: 5 secs
Tonic per hour: 67.00
Experience per hour: 11.00
Mission House
Edit
Quest Series:
Level: 5
Price: 100 gold
Tonic harvested: 670
Experience harvested: 110
Time between harvests: 10 hrs
Time to build: 5 secs
Tonic per hour: 67.00
Experience per hour: 11.00
Nature House
Edit
Level: 5
Price: 100 gold
Tonic harvested: 670
Experience harvested: 110
Time between harvests: 10 hrs
Time to build: 5 secs
Tonic per hour: 67.00
Experience per hour: 11.00
Hospitality House
Edit
Quest Series:
Level: 5
Price: 100 gold
Tonic harvested: 670
Experience harvested: 110
Time between harvests: 10 hrs
Time to build: 5 secs
Tonic per hour: 67.00
Experience per hour: 11.00
Pasta House
Edit
Quest Series:
Level: 5
Price: 100 gold
Tonic harvested: 670
Experience harvested: 110
Time between harvests: 10 hrs
Time to build: 5 secs
Tonic per hour: 67.00
Experience per hour: 11.00
Victual House
Edit
Quest Series:
Level: 5
Price: 100 gold
Tonic harvested: 670
Experience harvested: 110
Time between harvests: 10 hrs
Time to build: 5 secs
Tonic per hour: 67.00
Experience per hour: 11.00
Rabbit House
Edit
Quest Series:
Level: 5
Price: 200 gold
Tonic harvested: 670
Experience harvested: 110
Time between harvests: 10 hrs
Time to build: 5 secs
Tonic per hour: 67.00
Experience per hour: 11.00
Rider's Hamlet
Edit
Quest Series:
Level: 5
Price: 100 gold
Tonic harvested: 670
Experience harvested: 110
Time between harvests: 10 hrs
Time to build: 5 secs
Tonic per hour: 67.00
Experience per hour: 11.00
Malt Manor
Edit
Quest Series:
Level: 5
Price: 100 gold
Tonic harvested: 670
Experience harvested: 110
Time between harvests: 10 hrs
Time to build: 5 secs
Tonic per hour: 67.00
Experience per hour: 11.00
Milkman's House
Edit
Quest Series:
Level: 5
Price: 100 gold
Tonic harvested: 670
Experience harvested: 110
Time between harvests: 10 hrs
Time to build: 5 secs
Tonic per hour: 67.00
Experience per hour: 11.00
Mayhem Haven
Edit
Quest Series: Come What May
Level: 5
Price: 100 gold
Tonic harvested: 670
Experience harvested: 110
Time between harvests: 10 hrs
Time to build: 5 secs
Tonic per hour: 67.00
Experience per hour: 11.00
Baronial Bungalow
Edit
Quest Series:
Level: 5
Price: 100 gold
Tonic harvested: 670
Experience harvested: 110
Time between harvests: 10 hrs
Time to build: 5 secs
Tonic per hour: 67.00
Experience per hour: 11.00
Orchestra Pit
Edit
Quest Series:
Level: 5
Price: 100 gold
Tonic harvested: 670
Experience harvested: 110
Time between harvests: 10 hrs
Time to build: 5 secs
Tonic per hour: 67.00
Experience per hour: 11.00
Laureate's Lair
Edit
Level: 5
Price: 100 gold
Tonic harvested: 670
Experience harvested: 110
Time between harvests: 10 hrs
Time to build: 5 secs
Tonic per hour: 67.00
Experience per hour: 11.00
Aunt Chloe's Estate
Edit
Quest Series:
Level: 5
Price: 5 gold
Tonic harvested: 0
Experience harvested: 5
Time between harvests: 1 hr
Time to build: 2 hrs
Tonic per hour: 0.00
Experience per hour: 5.00
Harlan's House
Edit
Quest Series:
Level: 5
Price: 8 gold
Tonic harvested: 10
Experience harvested: 10
Time between harvests: 2 hrs
Time to build: 6 hrs
Tonic per hour: 5.00
Experience per hour: 5.00
Mayor's Mansion
Edit
Quest Series:
Level: 5
Price: 6 gold
Tonic harvested: 10
Experience harvested: 10
Time between harvests: 2 hrs
Time to build: 4 hrs
Tonic per hour: 5.00
Experience per hour: 5.00